Last year, I went to DIY Days at the behest of Pericles Lewnes. I was about to screen my film BLANC DE BLANC at Pericles' Annapolis Pretentious Film Society (side note: if you've got a feature you're looking to self-distribute, APFS is fantastic) and he was able to convince me to make a loop of the trip, going from Pittsburgh to Annapolis to New York and then back to Pittsburgh. I hadn't been to New York City in years, so it didn't take much to convince me.
If you've never been shepherded around the indie film community by a veteran who knows everyone, you simply must do it.
When I was scheduling A Year Without Rent, one of the first things I put on the schedule was DIY Days. It's a rather essential date in the calendar for people like me.
As usual, some of the most valuable parts of DIY Days happen outside of the conference itself. When you get that many creative people with that many ideas in the same room, you inevitably find yourself in a hour-long conversation in the hallway, only to realize you missed that one speaker you really wanted to see.
This year, I missed half of Ted Hope and Christine Vachon's "fireside chat" because I was having lunch with #scriptchat guru Jeanne V. Bowerman and filmmaker Brian Kazmark and the conversation went long. Jeanne is as compelling a conversationalist in real life as she is online, even without the tequila.
Some thoughts on DIY Days, from the perspective of someone who's kind of familiar with all of this:
++ It was refreshing to see that last year's fear of social media was pretty much missing. Or maybe just those people were missing. Either way, it's nice to not have speakers hi-jacked by that sort of thing.
++ The live stream was great, as I was able to discuss a speaker with someone who was watching in another part of the world. Naturally, this happened over Twitter. I don't remember the live stream being that well executed last year (did we even have one?).
++ Lance Weiler's PANDEMIC is much, much cooler than the buzz I'd heard indicated. If you want example of just far transmedia can go right now, this is the project to check out.
And you probably already knew that Lance is the guy behind this event.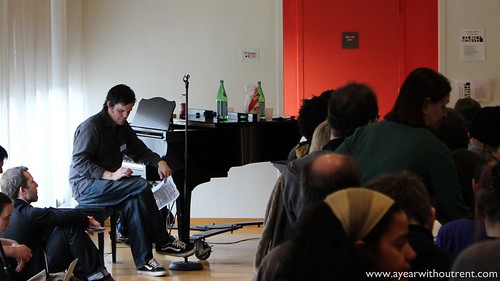 ++ At the afterparty, I spoke for a while to Nicholas Diakopoulos, who gave a great presentation on the value of data, which sounds really boring, but it isn't. Of course, I have an unhealthy obsession with spreadsheets, so this was like catnip to that part of my brain.
Talking to him, I was struck by the simple fact that Nicholas doesn't really know all that much about the film process. At first, I was thrown, but then I thought about it. Why should he? We're not going to get better at what we do until we start listening to people outside of our community.
++ The speakers, as usual, were quite good. And maybe it was a little different, this being my second time around, but it just wasn't quite as "cool" as last year. Again, that could mostly be me. Still, it's a hell of an event, and a great chance to put faces to twitter handles.
Or, sometimes not.